Fourteen Rollins Students Selected as Finalists for 2022 Presidential Management Fellows Program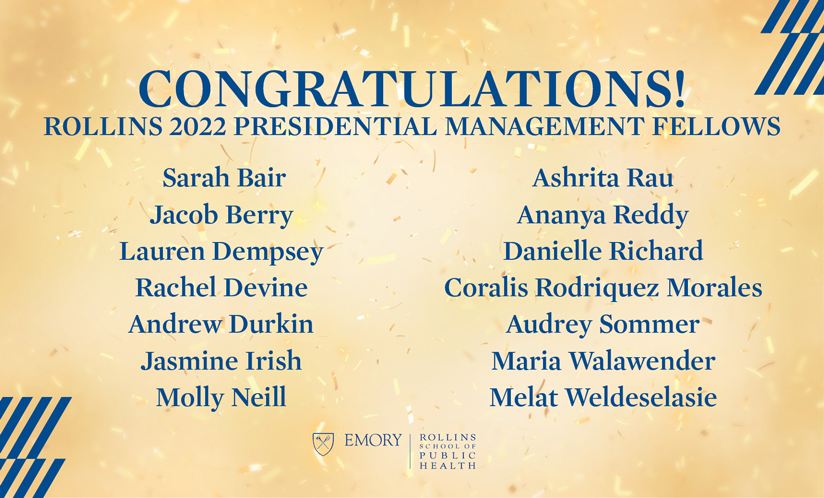 By Christa Ishimwe 
A record number of Rollins students have been selected as finalists for the prestigious Presidential Management Fellows Program's (PMF) 2022 cohort. Directed by the U.S. Office of Personnel Management, the PMF program is the federal government's flagship leadership development program at the entry level for advanced-degree candidates. From a pool of 8,065 applicants, 1,100 candidates were selected as finalists for the prestigious two-year training and leadership development program. This year, 14 are from Rollins. This is the largest cohort to ever be selected from Rollins, surpassing last year's record number of 10 fellows.
Students selected for the two-year paid fellowship include Sarah Bair, Jacob Berry, Lauren Dempsey, Rachel Devine, Andrew Durkin, Jasmine Irish, Molly Neill, Ashrita Rau, Ananya Reddy, Danielle Richard, Coralis Rodriquez Morales, Audrey Sommer, Maria Walawender, and Melat Weldeselasie.
Since 1977, the PMF Program has offered exceptional men and women from various careers direct pathways into federal services. Over the two years of the program, fellows receive 160 hours of formal interactive training, mentorship, developmental assignments, and potential for promotions and career advancements. These investments offer finalists unmatched opportunities.
"I am thrilled about the potential opportunity that comes with being a finalist for a PMF Fellowship," says Neill. "I believe the mentorship and growth opportunities that Fellows receive during their two-year appointment is a great way to form a strong foundation for any career path."
This prestigious fellowship attracts Rollins students for several reasons. For one, the federal government's flagship leadership program carries with it enormous prestige that fellows can benefit from when competing in the job market. Additionally, for graduates with under 5 years of on-the-job experience, this is an opportunity to gain high-level management experience and develop talent—and network—through rotations at different federal agencies and programs.
Applicants are also drawn to the PMF Program for its potential to open doors to full-time job offers from participating federal agencies. One finalist, Andrew Durkin, shared he has always dreamed of working at the Centers for Disease Control and Prevention (CDC). The PMF Program could open those doors.
He shares,"I am excited about the Presidential Management Fellows Program and the prospect of being appointed at the CDC. One of the main reasons I came to Rollins was the opportunity to network and seek long-term employment at the CDC. This opportunity makes that possible."
Another 2022 PMF fellow, Jasmine Irish, is passionate about global health within the federal sector hopes to use the PMF Program to pursue that passion. "I applied for the Presidential Management Fellows Program in the hope that I can channel my current work in global health into a fruitful experience working within a federal agency," Irish says. "I hope to further develop my leadership and management skills while building a foundation of valuable experience within the global health sector."
The journey to becoming a PMF is rigorous and requires patience and endurance. Audrey Somner reflects on the process saying, "I work as a Rollins Earn and Learn intern for the CDC in the Epidemiology Workforce Branch and have had the opportunity to work with current and past PMF fellows. They encouraged me to apply to the fellowship and were very supportive during the process. The application process involved three timed assessments: Situational Judgement, Life Experience, and Writing. When I found out I was selected as a PMF finalist, I was very excited!"
The PMF experience is applicable to any future career path of a Rollins student, whether that may continue to be in public service or the private sector, academia, or the nonprofit world.
Danielle Richard echoes the excitement of her classmates saying, "I was thrilled to learn of my acceptance to the Presidential Management Fellows program. This opportunity opens doors for me to quickly move into a meaningful government job in public health. I have learned so much during my time at Rollins and I look forward to using the knowledge and skills that I have gained in a job at the CDC."
For more information regarding PMF, visit pmf.gov and cdc.gov/pmf/overview.html.