2022 Martin Luther King Jr. Community Service Award Winners Recognized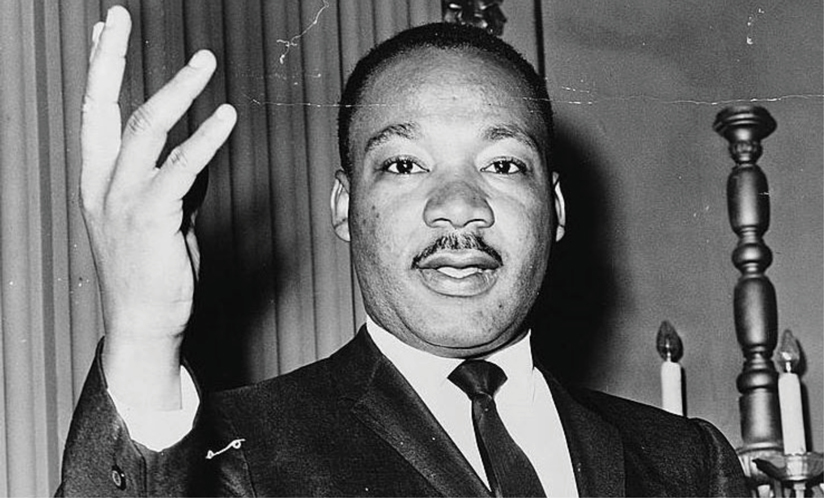 By Kelly Jordan
As part of Emory University's King Week, celebrating the legacy of Dr. Martin Luther King Jr., the Rollins School of Public Health hosted the 30th Martin Luther King Jr. Community Service Awards program. Held in partnership with the Goizueta School of Business, Emory School of Medicine, and Nell Hodgson Woodruff School of Nursing, the event took place on January 20, 2022, over Zoom and recognized outstanding individuals and groups that epitomize this year's theme of, "breaking down injustice through activism and voting."
Among the presenters and speakers included in this year's event were Provost Ravi V. Bellamkonda; Dr. Ray Greenberg, founding dean of the Rollins School of Public Health; Dr. Andra Gillespie, associate professor of political science; Dr. Linda McCauley, dean of the Nell Hodgson Woodruff School of Nursing; and Dr. Vikas Sukhatme, dean of Emory School of Medicine.
"This year's awards recognize individuals and groups from the Emory and Atlanta communities for their outstanding and unparalleled response to break down injustice through activism and voting," said Bellamkonda during the event's welcome. "It is reflected so well in Dr. King's quote, 'Our lives begin to end the day we become silent about things that matter.' We are here today to celebrate those contributions that were made in the spirit of Dr. King."
Gillespie, a nationally recognized expert on political mobilization, race, and political leadership of the post–civil rights generation, delivered a rallying—and hopeful— keynote address that drew from her research surrounding voter mobilization and reform. She noted voting is particularly important in Georgia as the state's electorate becomes more racially diverse over time, highlighted types of mobilization (and research supporting the effectiveness of a personalized approach), and emphasized the continued need to ensure all voices are heard at the polls.  
"Voting is an ongoing process we have to commit ourselves to 12 months a year," she said. "Focusing on mobilization is the one thing you have control of that you can do to do your part to make sure everybody turns out to vote." She ended with tangible steps voting activists—or others interested in getting politically engaged— can take to help make a difference and operate effectively in the current political environment: train your field staff well, collect evidence if you see voter intimidation or irregularities and know where to report it, and stay focused.
"You are keeping Dr. King's dream alive," she said to this year's winners. 
Over the course of the award program's history, more than 100 individual and community groups have been recognized as awardees for their contribution to community service in the spirit of Dr. Martin Luther King Jr. This year's winners—individuals and organziations selected from a group of 50 nominees—were: Dr. Guido Silvestri, Neena Smith-Bankhead, Dr. DeJuan White, Audric Donald, and The Churchwell Diversity and Inclusion Collective.
---
Dr. James W. Curran, dean of the Rollins School of Public Health, received a special award from the Martin Luther King Jr. Community Service Awards Committee in recognition of his support and leadership of this annual event for over 25 years, as well as his monumental impact on the HIV/AIDS response during the first half of his career.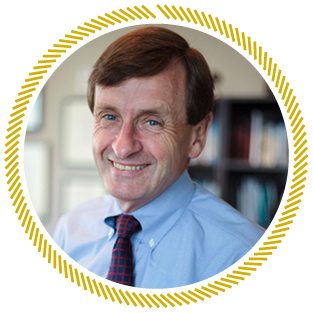 "It's a great privilege for me to be able to offer a few words of praise for Jim and the work he's done during this ceremony," said Greenberg in a recorded message.  Greenberg recalled the impetus for creation of the awards during his early days at Rollins. While there were several other events at Emory recognizing Dr. Martin Luther King Jr., there weren't any recognizing work being done in the Atlanta community related to his mission. As Greenberg reflected on Curran's career and on the longevity and support for the continuation of the award ceremony, he noted, "It says a lot about Emory to have so many schools that value community service."
Upon his recognition, Curran says, "I am grateful to the faculty and staff for their commitment to having an event these past few decades that honors community colleagues for their service in the spirit of one of our greatest Americans."
---
Dr. Guido Silvestri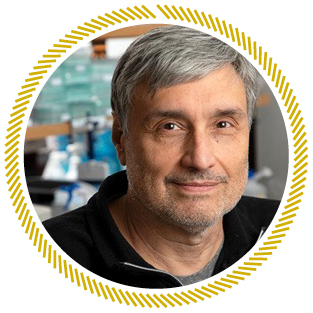 Lynne Segall, associate dean of management practice initiatives and senior lecturer at Goizueta Business School, presented Dr. Guido Silvestri with his award and recognized his extensive efforts lifting up the faculty, staff, residents, and fellows in the Emory University Pathology Department since June 2020 with the creation of a discussion group, Conversations on Racism. "After seeing the murder of George Floyd, Dr. Silvestri wanted to facilitate healing within the Department and today, 19 months later, the weekly discussion group is still going strong with participants, guest speakers, and what was described by one nomination as, 'powerful and painful life-changing discussions,'" said Segall.
Silvestri received multiple nominations that applauded him for creating a safe space for fostering conversations on racism that have made a difference in people's lives. 
"I am very honored to receive this award, that really belongs to the entire community who created our weekly meeting, Conversations on Racism," says Silvestri. "I will do my best to continue to promote the values of diversity, equity, and inclusion in our department and throughout the University." 
---
Neena Smith-Bankhead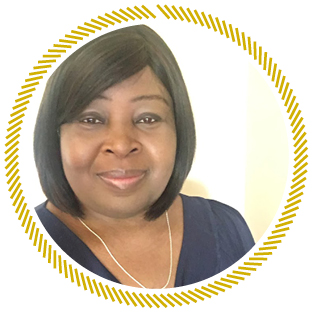 Dr. Sarah Blake, associate professor of health policy and management, presented Neena Smith-Bankhead with her award and highlighted Smith-Bankhead's more than 28-year career in public health. Smith-Bankhead is currently the director for EnCORE, which provides personalized and localized capacity development to community organizations and public-private partners working to advance health equity in the Southern United States. Smith-Bankhead has also served on the board of directors of three local Atlanta-based nonprofit organizations and is a part-time instructor in the Healthcare Management Program at Clayton State University. As an educator and advocate in Clayton County, Smith-Bankhead addresses upstream social inequities at the root of systemic and institutionalized racism. Smith-Bankhead also inspires the critical thinking needed for students to more confidently raise their voices.
In January 2021, Smith-Bankhead was selected as citizen of the month for District 3 in Clayton County by Commissioner Felicia Franklin who recognized Smith-Bankhead as a, "powerful force in transforming Clayton County…Neena has made sure that Clayton County has a seat at the table. During the past election cycle, Neena used her voice and fingers to make sure that Georgia was counted." 
In reaction to being selected, Smith-Bankhead says, "I was shocked to receive an award named after one of the greatest leaders of all time, and one of my heroes. It's a huge honor, and I appreciate the selection committee and the person who nominated me, Dr. Linelle Blais, for this acknowledgement."
---
Dr. DeJuan White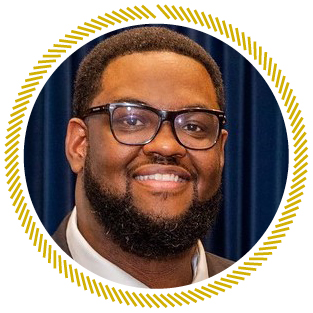 Ama Fofie, director of diversity, equity and inclusion at Goizueta Business School, presented Dr. DeJuan White with his award. White has served as the co-chair of the Racial, Ethnic, and Cultural Subcommittee at the School of Medicine since 2018 and has conducted unconscious bias training and organized multiple workshops regarding equity. As a member of the Diversity and Inclusion Subcommittee, he has facilitated challenging discussions regarding race and ethnicity among groups of medical students, residents, staff, and faculty across the School of Medicine and at Grady Memorial Hospital. He regularly provides teaching for psychiatry residents and fellows on diversity and structural racism.
In the School of Medicine, White serves as a small group advisor, mentoring a cohort of students and serving as a strong role model for all, including those who identify as underrepresented minorities. Through Project EMPACT, he also serves as a mentor for underrepresented medical students.
"I am truly humbled to receive such a prestigious award named after an icon and hero of mine," says White. "Dr. King's quote selected for this year's ceremony fuels my service as I am empowered to speak up and advocate for equity and racial justice in my community." 
---
Audric Donald
Nena Buie, program coordinator with Emory Department of Surgery, presented Audric Donald's award. Donald, a student in the school of nursing, was recognized for his extensive work to increase African-American representation in nursing and the development of social networking in both Emory University and the City of Atlanta. 
Donald has been conducting research as a part of the Faith Village Research Lab, which focuses on combatting dementia in elderly African American patients. He provides community-based care in a religious context for these individuals and is also co-writing an article in association with Emory's School of Medicine about these experiences to help spread awareness.
Additionally, Donald is a member of the Georgia Black Nurses Association, through which he aids in stimulating student membership and outreach.
---
Churchwell Diversity and Inclusion Collective
The Churchwell Diversity and Inclusion Collectivewas the organizational winner this year. The mission of this resident-run group hosted within Emory's School of Medicine, is to,"foster a culture of camaraderie, championing efforts within advocacy, recruitment/retention, and professional development, with the goal of building an inclusive resident body to better serve the greater Atlanta community." Among the group's numerous university and community activities include: advocating for systemic change through community and campus campaigns, hosting diversity and inclusion events, volunteering within the Greater Atlanta community, assisting the Internal Medicine residency program in recruiting underrepresented minorities, fostering a partnership between the Internal Medicine at Emory University and Morehouse School of Medicine; and participating in the Department of Medicine's DEI council.