Study Confirms COVID-19 Risk is Low for Food Workers in Enclosed Food Manufacturing Facilities When Using Food Industry Infection Control Strategies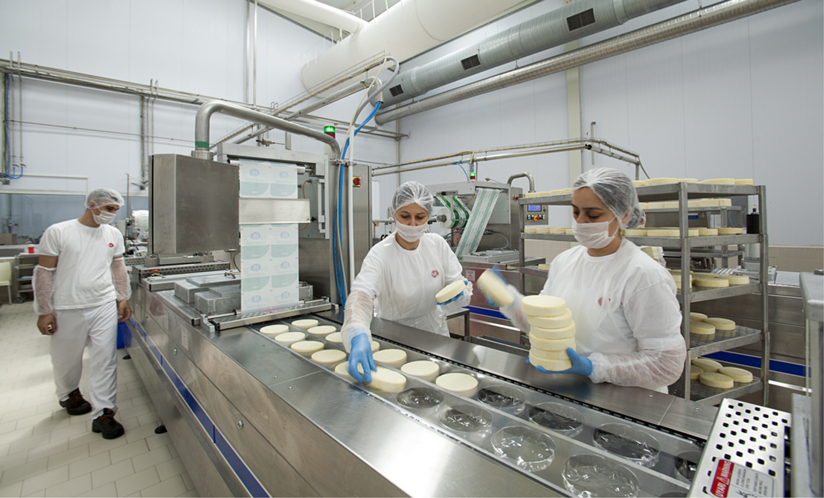 By Kelly Jordan
A new study led by researchers at the Emory Rollins School of Public Health confirms that, when combined, the food industry's COVID-19 infection control strategies prevent the spread of COVID-19 in enclosed food manufacturing facilities. Julia S. Sobolik, MPH, PhD candidate in Environmental Health Sciences, was lead author on the article, which was published in Food Control.
In this study, the investigators estimated the possible exposure of food workers to SARS-CoV-2 in an indoor food (fruit, vegetable) production facility. To do this, they developed a risk assessment model of all three COVID-19 transmission pathways (droplet, aerosol, and fomite-mediated). They simulated a worst-case scenario of a symptomatic, coughing infected worker in close proximity to a susceptible worker for an eight-hour shift. This model was then used to test the efficacy of food industry recommended risk reduction measures at preventing COVID-19 transmission.
The study indicates that when bundled together, food industry COVID-19 strategies (masking, physical distancing, ventilation, handwashing, and surface disinfection) provide significant protection (resulting in a less than 1 percent risk of contracting COVID-19 during an 8-hour shift). Combining these measures with vaccination (whether partial or in full) provided additional individual protection, especially within close contact (distances of 3 feet or less). The researchers note that COVID-19 vaccination alone is not sufficient to protect food workers in such close proximity to one another and needs to be combined with additional strategies such as masking for optimal worker protection against person-to-person transmission.
"Our food industry partners, including the American Frozen Food Institute and the Produce Marketing Association, contributed important technical insight to this work," says Sobolik. "Given that food workers have been disproportionately impacted by the COVID-19 pandemic, this work provides evidence that we have the necessary tools to protect the health of these essential workers. Our analysis showed that these strategies also work well in food facilities under different temperature conditions such as for the meat, poultry, and frozen food industries. An extension of this analysis, which has recently been submitted, also suggests insignificant risk from contact with contaminated food packaging surfaces (fomites) in these facilities. Lastly, the protective effect of these bundled control measures applies to new variants such as Omicron."
Additional Rollins authors on the article include Elizabeth T. Sajewski, PhD candidate in Environmental Health Sciences; D. Kane Cooper, MPH; Ben A. Lopman, PhD; Alicia N.M. Kraay, PhD; P. Barry Ryan, PhD; and Juan S. Leon, PhD, MPH.