Rollins Experts Provide COVID Prevention Guidance to Local School
By Karina Antenucci
All schools have been put in a difficult position over the course of the COVID-19 pandemic. With such variation in staffing, locations, and resources, there isn't a one-size-fits-all plan that schools can pick up and implement to keep their communities safe.
"Each school or district is having to create and execute their own COVID plan, all while still advancing their mission to educate children," says Lauren Christiansen-Lindquist, research assistant professor and director of graduate studies in the Department of Epidemiology at Rollins.
Christiansen-Lindquist has young children at The GLOBE Academy, a K-8 public charter school in DeKalb County, Georgia, with two campuses about one mile apart. Putting her public health background to use beyond the workplace, she served as a member of the school's COVID-19 Reopening Committee in the fall of 2020.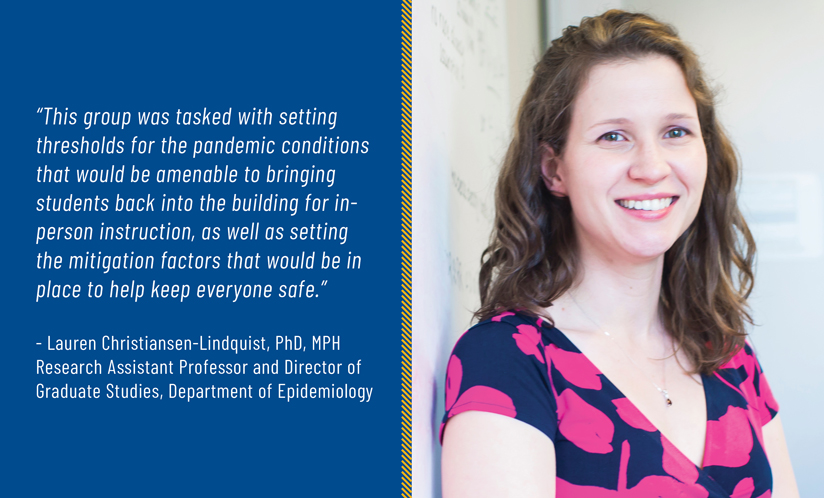 "This group was tasked with setting thresholds for the pandemic conditions that would be amenable to bringing students back into the building for in-person instruction, as well as setting the mitigation factors that would be in place to help keep everyone safe," she says.
Once GLOBE began in-person instruction in the spring of 2021, the reopening committee dissolved. Christiansen-Lindquist and fellow GLOBE mom and Rollins colleague Dabney P. Evans, PhD, MPH, associate professor of global health, saw a need for ongoing support into the 2021-2022 academic year. In March 2021, they were thrilled to find an opportunity for pilot grant funding that was a good fit for this work through Emory's Maternal and Child Health Center of Excellence.
The grant allowed the duo to hire a graduate research assistant, global Health MPH student Rachael Lewis, through the Rollins Earn and Learn program. "Rachael has been instrumental in supporting GLOBE during this time. We all work closely on refining the communications, with a particular eye toward making them accessible to a general audience," Christiansen-Lindquist says.
Together, the three public health champions created the COVID-19 Health & Safety Playbook for the GLOBE community to follow. Updated regularly, it outlines the latest school operating procedures and provides health education materials and infographics to help convey some of the more complicated information that can be difficult to digest.
"We all want our kids in school but also to be safe and healthy in school. We are trying to find that balance between the educational needs and operational realities of little kids with the realities of this very serious disease and how we can prevent infections," says Evans.
The team also scripts a bi-monthly newsletter for the school called The COVID Communiqué, which offers updates and timely guidance. For example, the issue prior to Labor Day discussed travel best practices and what families needed to know before returning to school.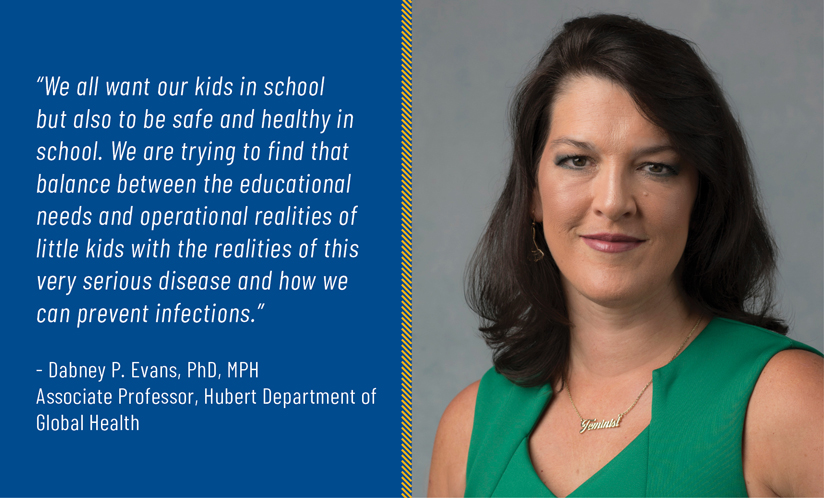 "We're using CDC and Georgia Department of Public Health guidance for everything we do. It's just a matter of tweaking and transferring the information to the school setting," says Evans. "The information we put out has to both speak to parents who are very well-versed in public health, as there are a disproportionate number at the school who work at Emory and the CDC because of its location, and also the other end of the continuum with parents who don't work in public health and have a lot less general knowledge of COVID."
Evans and Christiansen-Lindquist utilize a data dashboard to communicate the latest COVID-19 case numbers within the GLOBE community and in DeKalb County at large. In this spreadsheet, parents and staff can see how many cases were reported each week separately for each campus.
Additionally, they are working on setting up a routine testing site on campus through a Georgia Department of Public Health program that is federally funded and designed to help schools. The site would provide weekly testing for students and teachers, adding an extra layer of safety to the protocols.
"Our partnership has allowed GLOBE to have access to a team of public health professionals who are solely dedicated to supporting their COVID response," says Christiansen-Lindquist. "Not only are Dabney and I familiar with the public health side of this work, but as parents, we know things about the community that help us to ask the questions that make our response much more effective."
If further funds are secured, Evans and Christiansen-Lindquist would like to provide support to the academy on an ongoing basis for however long it is needed beyond the current academic year.
#buildRollinsNav()