Joanne Williams Receives Advisor/Mentor of the Year and RSGA Staff Member of the Year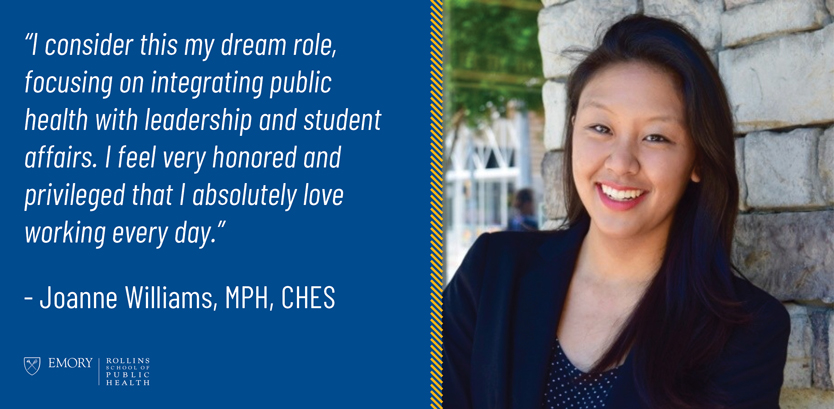 By Karina Antenucci
Joanne Williams, MPH, CHES, associate director for student engagement at Rollins has been selected as the Advisor/Mentor of the Year by the Emory University Student Involvement and Leadership Awards Committee for the second year in a row. This recognition speaks volumes to Williams' stellar reputation campus-wide.   
"Joanne is a passionate public health professional who seeks to integrate the ideals of health, wellness, and civic engagement into the student experience at Rollins," says Kara Robinson, associate dean of admission and student affairs.
Williams, a Rollins alumna,  stepped into her current role at Rollins in November 2018. Robinson notes that as a former Rollins student, Williams has an intimate understanding of the motivations and needs of the student body, enabling her to successfully guide 18 student organizations and leadership programs at Rollins.
Robinson adds, "Some may call her a one-woman show, as she always manages to be involved in most everything that touches students at Rollins! We are so grateful for her commitment to our students, our school, and the university. There is no one more deserving of this recognition or honor than Joanne."
Of being selected for the award, Williams says, "It means a lot. I've loved working with students and seeing them grow. This is not an award I expected early in my career—and not just once, but twice during COVID years. It's hard to build relationships virtually but this shows that when you're intentional about reaching out to students, even in a virtual environment, it goes a long way."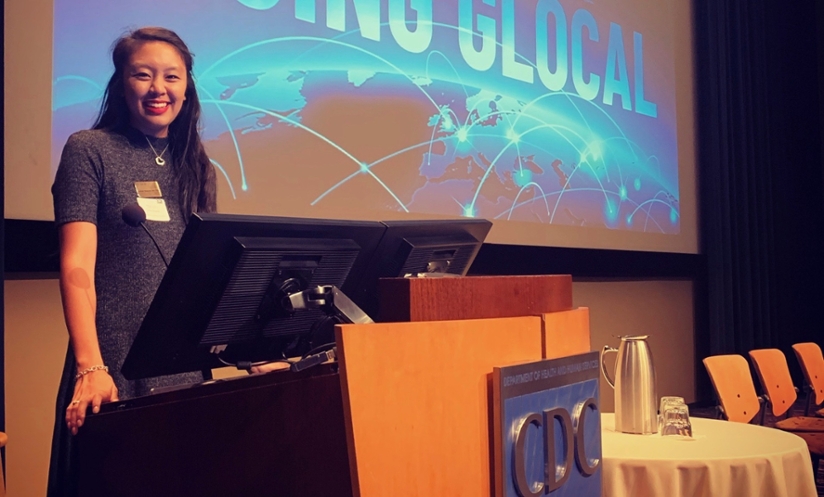 Williams began her student affairs journey through the AmeriCorps program after her undergraduate studies at Virginia Tech, where she graduated from in 2015. The Virginia Beach native was placed in a community engagement office at her alma mater and helped steer community service and leadership programs. After a year, she joined Rollins as a Master of Public Health student.
"I decided to pursue public health and while I was a student, I really missed working in student affairs. At the time, I didn't realize there was an intersection between that and public health," says Williams, which is where she landed six months after graduation.
"I consider this my dream role, focusing on integrating public health with leadership and student affairs. I feel very honored and privileged to be in a job that I love every day," Williams says.
There is no typical day for Williams. With much of her role focused on program management and implementation, she works with faculty, staff, and students on everything from student orientation to graduation, COVID-19 response, student leadership development, and crisis training. The latter focuses on helping faculty and staff to respond to students in mental health crisis.
Her greatest professional love is working with students. "I really like to get to know them to empower them to recognize their own strengths and help them be the best version of themselves," she says. "Especially in graduate school, there are a lot of learning opportunities that can happen outside of the classroom through student involvement and leadership. As an advisor, I love seeing them take ownership over a project and run with it." 
Lisa Chung, 21PH, is one of many students who has been impacted by Williams. "Joanne makes Rollins stand out from other public health programs. From initiating 'Scholars in Action' with a vision of training civic-minded scholars, to identifying and nurturing student leaders, and constantly encouraging and elevating the student body, her footprint at Rollins is remarkable. I believe Joanne's tireless dedication and advocacy for students' success is critical to this institution's continued success and a gift to our community," she says. 
To reiterate Williams' massive impact on the school and overall excellence, she was selected by the Rollins Student Government Association as the recipient of the 2021 RSGA Staff Member of the Year Award, an acknowledgement she received during the 2021 commencement ceremony. 
Williams credits those who have held the position before her for laying the groundwork for her success. "There's a legacy of amazing people who have had my position and I have looked up to them so much. I knew them to be organized, kind, and student-facing. They took the time to have a conversation with a student no matter how busy they were. I wanted to maintain that presence when I came into the role," she says. 
If the awards are any indication, Williams is doing just fine.