Rollins Ranked No. 4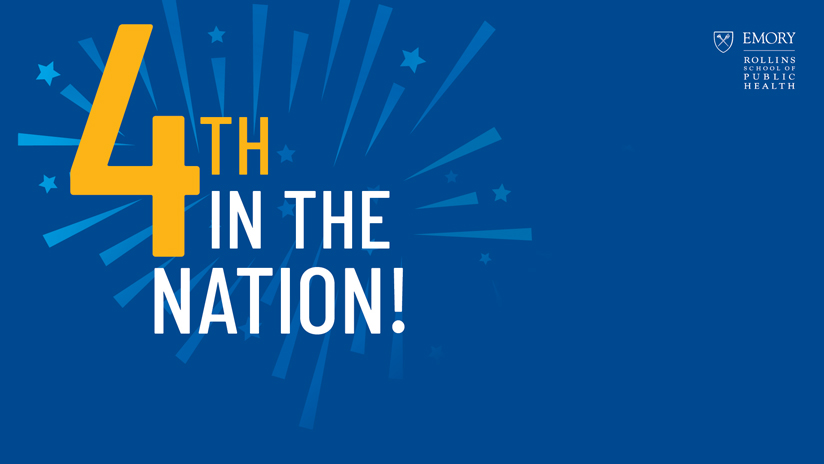 The Rollins School of Public Health has received a No. 4* ranking in U.S. News & World Report's 2022 edition of Best Graduate Schools, moving up a position from its previous No. 5 slot. 
The U.S. News & World Report's public health school and program rankings are conducted every three years and are determined based on the results of peer assessment surveys sent to deans, faculty, and/or administrators of the nation's Council on Education for Public Health-accredited programs and schools of public health. Rollins has consistently placed in the top 10 for more than 15 years. 
"I'm pleased that Rollins has once again been recognized as one of the top schools of public health in the nation," says James W. Curran, MD, MPH, dean of the Rollins School of Public Health. "This distinction is a direct reflection of the high-caliber people working and learning at Rollins, where innovation, collaboration, and quality are key to everything we do."
Established as a graduate program in 1975 and as a school in 1990, Rollins has long been a leader in the public health sphere, where its research and academic offerings are synonymous with excellence. Home to six academic departments and an Executive MPH program for working professionals, students can earn master's degrees, doctoral degrees, dual degrees, and/or certificates while simultaneously gaining real-world experience through applied practice experiences, global field experiences, or the school's signature Rollins Earn and Learn program.
Students, faculty, and staff are united in their shared mission to impact the health and well-being of people around the globe through excellence in teaching, research, and the application of knowledge in partnership with domestic and global communities.
In the era of COVID-19, this has meant leading the response on a local and national level through research, advocacy efforts, and advisement (including multiple media appearances by members of the Rollins community). Examples of the types of projects Rollins has led during the pandemic include the Dignity Pack Project (which provides PPEs to the homeless population), the Emory COVID-19 Response Collaborative, the Rollins Election Day Initiative, COVID-19-related planning for the Iditarod, and more.
At the core of the Rollins vision is its commitment to ethically engage with domestic and global communities to achieve optimal population health, quality of life, and social justice. To advance the diversity, equity and inclusion efforts in the school, Rollins recently named Dr. Joanne McGriff as the school's first assistant dean for diversity, equity and inclusion. 
*Rollins is tied fourth with Columbia University and the University of Michigan- Ann Arbor.