Sarah Blake Receives Award for Excellence in Teaching and Pedagogy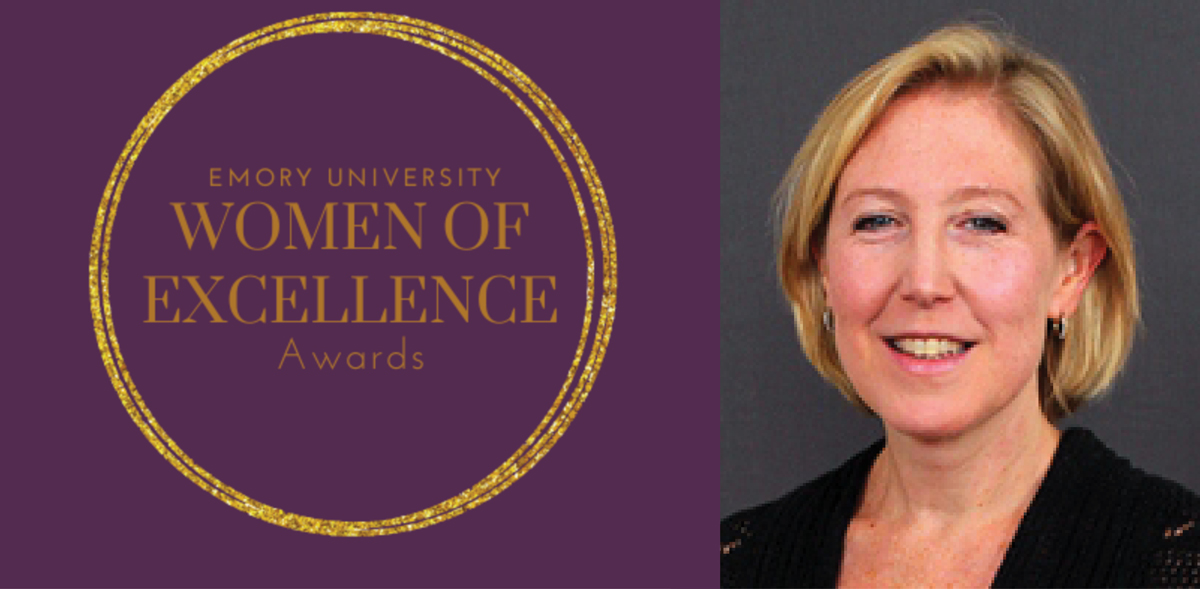 Sarah Blake, PhD, MA, research assistant professor and director of graduate studies in the Department of Health Policy and Management at Rollins, was recently recognized with Emory's 2021 Award for Excellence in Teaching and Pedagogy for her outstanding contributions to the advancement of knowledge surrounding women's health.
Presented by the Center for Women at Emory University as part of the Women of Excellence awards, this specific honor, "recognizes any teacher at Emory whose teaching methods, syllabi, and/or course design addresses women's issues or matters of feminist importance with innovation and success. The award honors a teacher whose record demonstrates a willingness to bring gender issues into the classroom in creative and inspiring ways."
Blake's work addresses the delivery and financing of reproductive and maternal health care services for low-income and uninsured women. She uses a health equity lens to explore strategies for eliminating health disparities in women's health through policy and programmatic solutions.
In 2003, Blake designed the first and only graduate course to address women's health policy at Emory—which she continues to teach. This course, HPM 569 Women's Health Policy: A Lifecycle Approach, utilizes a women-centered, feminist lens to study the impact of historical, social, political, legal, and economic factors and values on the development and implementation of health policy in the U.S. as it pertains to women's health. Since its inception, more than 300 Emory undergraduate, public health, law, and medical students have enrolled in HPM 569.
Blake was nominated for this award by her colleagues, former students, and alumni. Her commitment to teaching also extends to her scholarship. She is a recent recipient of the Woodruff Health Educators Academy (WHEA) Educational Scholarship and is a former WHEA Teaching Fellow.
"I am very honored to receive the Award for Excellence in Teaching and Pedagogy from the Emory Center for Women," says Blake. "I am passionate about teaching, particularly in my area of women's health policy. I developed this course to explicitly recognize the role that women have played in the U.S. public health system since its inception, including as mothers, health care providers, and as policy-makers. Through this course, I emphasize for my students the importance of developing practical skills that enable lifelong learning and independent problem-solving needed for their future careers in public health."
Blake joined Rollins in 2001 and is actively engaged with various Emory leadership groups, research teams (including The Center for Reproductive Health Research in the Southeast and the Emory COVID-19 Response Collaborative), and committees at a school and university level. Previously, she was recognized with the Emory University Teaching Award in 2012.