Rollins Professor Wins the 2021 F. Clarke Fraser New Investigator Award for Extensive Birth Defects Work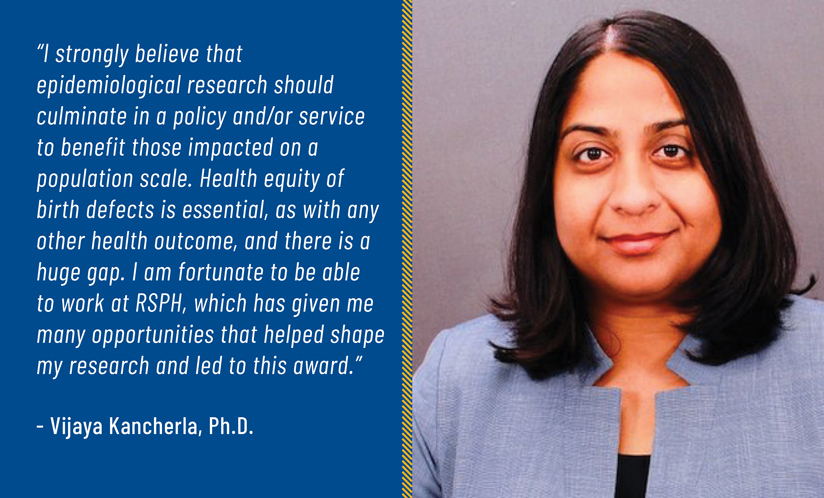 By Karina Antenucci
Vijaya Kancherla, PhD, research assistant professor in the Department of Epidemiology at Rollins, recently won the 2021 F. Clarke Fraser New Investigator Award from the Society for Birth Defects Research and Prevention (SBDRP, previously Teratology Society) for her vast body of work on birth defects epidemiology. This award honors F. Clarke Fraser, one of the founding members of the SBDRP for his many contributions to the field of developmental toxicology. During the awards ceremony this summer, Kancherla will give a presentation related to her research, which will serve as a demonstration to pre- and postdoctoral students of the development of an independent career in birth defects research. 
"I have explored various branches of birth defects epidemiology including surveillance, etiology, health outcomes, health services, prevention, and policy. I try to focus on reducing disparities,"says Kancherla, who has been a member of the SBDRP since 2015. "The Society saw my comprehensive work in the last eight years at Emory as a new investigator. The award is an acknowledgement for the work one can do on multiple facets of birth defects." 
Kancherla's interest in public health began during her undergraduate education. In 1995, she was recruited as a budding medical student in India to support the country's national campaign against polio and was deployed to rural regions to administer oral polio vaccines to children. "This experience made a lasting impression on me and shaped my career choices that followed," she notes. Her rotations in gynecology and obstetrics wards in her city's largest government hospital where urban poor were served also paved a way for her interest in maternal and child health.
During her doctoral study at the University of Iowa, Kancherla was a fellow at the Iowa Registry for Congenital and Inherited Disorders and was involved in various state and national projects on birth defects epidemiology. She identified a gap in global epidemiology of birth defects. "I have always felt that it's an important field even though birth defects are considered rare in relation to some other child health outcomes. Birth defects are actually quite common, but not documented in low- and middle-income countries. Many of them can be prevented," she says.
Currently, one of Kancherla's research studies is in collaboration with Suzan Carmichael, PhD, and colleagues at Stanford University to examine race and ethnic disparities in health care utilization among infants with spina bifida. Using data from the California Perinatal Quality Care Collaborative, they have published two studies in the American Journal of Perinatology, one on the timeliness of surgical care and another on child mortality in infants with myelomeningocele in California. They are completing another study using this dataset to examine distance to care and race/ethnic disparities associated with it for families seeking myelomeningocele surgeries. 
For the last eight years, Kancherla has been an epidemiologist at Emory's Center for Spina Bifida Research, Prevention, and Policy (SBRPP). The Center was founded by Dr. Godfrey Oakley, a research professor at Rollins, whose life work has centered around food fortification with folic acid (which pregnant mothers need within the first 28 days of pregnancy to prevent neural tube defects) 
"Staples like wheat and maize flour are enriched with folic acid in the U.S. and this simple intervention has significantly reduced the prevalence of major birth defects of brain and spine since early 2000s," says Kancherla. "The CDC calls food fortification one of the top 10 public health achievements in 2001-2010. The science on folic acid's role on preventing neural tube defects has been available to us since 1991 through robust clinical trials, yet we have been able to prevent only 25 percent of all preventable neural tube defects cases in the world with this knowledge as of 2019. We closely monitor the global status of prevention of neural tube defects at our Center and this knowledge helps in advocacy."
Kancherla works closely with colleagues at the Food Fortification Initiative in advocating to policy makers and funding agencies to help with spreading the Center's work on preventing neural tube defects mainly in countries in Africa, Asia, and Europe. 
"In some countries, babies with birth defects die soon after birth due to lack of medical care, while in others they thrive and contribute to the society. It is sad when I hear from colleagues in Africa that babies with neural tube defects are kept hidden in their homes, cannot attend school, and the mother faces stigma and is shunned from the community," Kancherla says. 
This is why the March of Dimes, CDC, WHO and other large international organizations came together to make March 3 World Birth Defects Day (WBDD). On this day, these organizations and partners (such as SBDRP) run informative webinars and special programs to increase awareness about birth defects. "It started in 2015, quite recently. This day is a great initiative for raising global awareness on the issue," Kancherla says.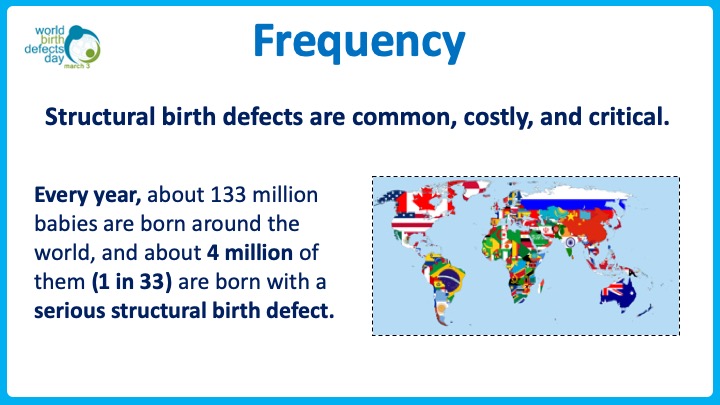 Kancherla also works with the CDC as a guest researcher. Using Metropolitan Atlanta Congenital Defects Program data, she is studying causes of death in those affected by spina bifida in the Atlanta area. She also collaborates on the National Birth Defects Prevention Study at CDC, where several states have collected data to study factors associated with several major and minor birth defects. "This study has allowed us to examine many important risk factors for birth defects for the first time using case-control study methods," she says. Kancherla has published several papers on these findings and encourages Rollins student collaborations as they work with these data for their thesis projects.
"My future career aspirations include bringing birth defects to the forefront of reproductive, maternal, newborn, and child health discussions at large agencies that can influence change, and to build workforce for birth defects. The CDC has a really strong birth defects branch, and that's a nice avenue for our students to contribute," she says.
Additionally, Kancherla currently serves on several academic and professional committees such as International Clearinghouse on Birth Defects Surveillance and Research, WHO-Global Birth Defects Technical Working Group, Institute of Health Metrics and Evaluation, the Rollins Global Field Experience, Society for Epidemiology Research, International Conference on Birth Defects and Disabilities Scientific Committee, Society for Birth Defects Research and Prevention, and the Folate Task Team at Nutrition International.
"I strongly believe that epidemiological research should culminate in a policy and/or service to benefit those impacted on a population scale," she says. "Health equity of birth defects is essential, as with any other health outcome, and there is a huge gap. I am fortunate to be able to work at Rollins, which has given me many opportunities that helped shape my research and led to this award."
---