Rollins MPH Student's Popular "Virtual Documentary Night" Series Forges Community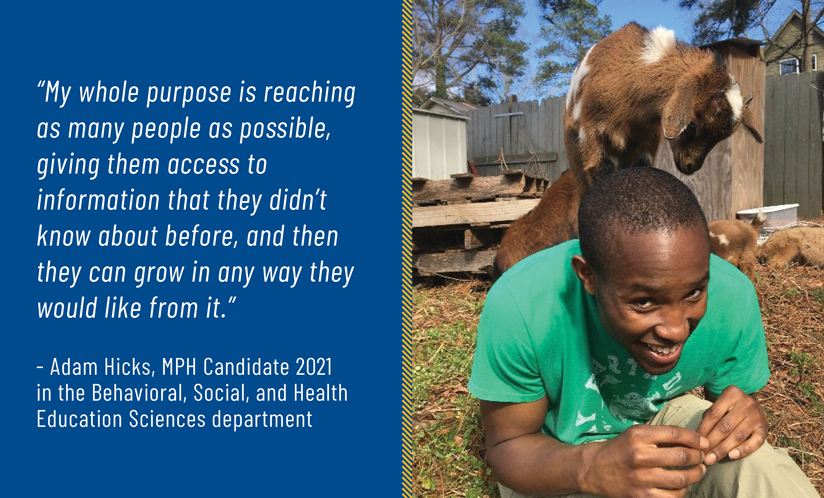 By Karina Antenucci
Through his documentary event series, "Virtual Documentary Night," Adam Hicks, MPH Candidate 2021 in the Department of Behavioral, Social, and Health Education Sciences, has discovered the power of community connection. Hicks originally started the film watching and discussions in 2017 as a way to find kinship in Atlanta, but it has grown into a way to bring together multiple voices and different ways of thinking. 
Since its inception, the always-free event has evolved based on both group feedback and also necessity due to space and COVID-19. Documentary Night began in-person at one of Hicks' friend's apartments with a small group, then moved to a Unitarian church he attended, and finally, switched to a virtual series in spring 2020 through an Emory-enabled Zoom platform, which provides space for up to 300 attendees. With the shift to virtual, Hicks was able to welcome people from other states and even countries, and also offer flexibility for the film watching.
"My whole purpose is reaching as many people as possible, giving them access to information that they didn't know about before, and then they can grow in any way they would like from it," says Hicks, who embraces a diverse group of attendees, wide-ranging in ages, races, nationalities, political affiliations, and backgrounds. 
How it works: Everyone on his event email list receives a link to the next film and can watch it at their leisure. Then, a Zoom meeting ensues on typically the second Friday of each month. Hicks breaks everyone into less-intimidating small groups of four or five for 15- to 20-minute discussions, with a discussion prompt. They do three rounds in different groups with different prompts, and end with a large group discussion. The group also brainstorms and votes on the next documentary to watch, which results in a wide range of topics, from abortion to voting rights.
"One of the event 'norms' is this is not a debate; this is a discussion. People can still feel free to challenge other people's perspectives," Hicks explains. However, the purpose is not to sway the other person, but to get a better understanding of why they think the way they do. 
Lately, the docuseries event has also welcomed speakers and partners such as documentary directors and community groups with a tie to a documentary's theme. For instance, Rollins' Association of Black Public Health Students partnered in the discussion about the documentary The First Rainbow Coalition and the Vegan Emory Group collaborated on the group discussion around the film Forks Over Knives. Soon, Hicks plans to involve Concrete Jungle, a nonprofit he works at that provides fresh and locally sourced food for people in need. 
Hicks' purpose for the film series is in line with why he's completing his MPH at Rollins: distributing good information to the community. During his time as an elementary teacher in underserved communities in Atlanta from 2016 to 2019 and with a keen interest in nutrition (since he improved his own health through plant-based nutrition while teaching in South Korea from 2011 to 2013), he noticed how broken the school system was, not just for the health of students but also for teachers.
"I met multiple teachers whose hair was falling out because of stress. At Rollins, I want to learn systemically what the issue is, to advocate for teachers, and get them the resources and time they need [to live an overall healthier life]," he says. "After all, a teacher's work environment is a child's learning environment. So, in order to take care of one, we must take care of the other."
After graduating in May 2021, he plans to continue his nutrition and education work in the community. He will continue to run the Virtual Documentary Nights, which he plans to turn into a nonprofit.
---
You can learn more information or join the Virtual Documentary Night email list by contacting Adam Hicks at adam.hicks@emory.edu