Emory Climate and Health Research Incubator Contributes to Global Surveillance Report on Climate Change
By Karina Antenucci 
The Lancet Countdown is an international collaboration, established to provide an independent, global monitoring system dedicated to tracking the emerging health profile of the changing climate. This surveillance report is updated annually and covers at least 50 nations globally. Dr. Yang Liu, distinguished professor and department chair; Liuhua Shi, research assistant professor; and Bryan Vu, doctoral student, all from the Gangarosa Department of Environmental Health at Rollins School of Public Health, contributed to "The 2020 Report of The Lancet Countdown on Health and Climate Change: responding to converging crises," and the Lancet Countdown U.S. Policy Brief which launched on December 2, 2020 by The Lancet.   
The 2020 report presents 43 indicators across five sections: climate change impacts, exposures, and vulnerability; adaptation, planning, and resilience for health; mitigation actions and health co-benefits; economics and finance; and public and political engagement. This report represents the findings and consensus of 35 leading academic institutions and United Nations agencies.  
"The Countdown report started as a commissioned piece by The Lancet journal, but it has developed into the world's most comprehensive tracking system for the health impacts of climate change on human health. It provides a thermometer of climate and health so we can gauge the commitment and investment of the world in addressing the issues, such as the negative health outcomes of climate change," says Liu, who is directing the Emory Climate & Health Research Incubator.
Emory's participation in the Countdown report since 2019 has been funded by the incubator, which is designed to identify and pursue climate and health research projects that can have a significant impact on society nationally and internationally. "My hope is that the Countdown report can grow into the climate equivalent of the GBD—Global Burden Disease project—in the climate and health field," says Liu.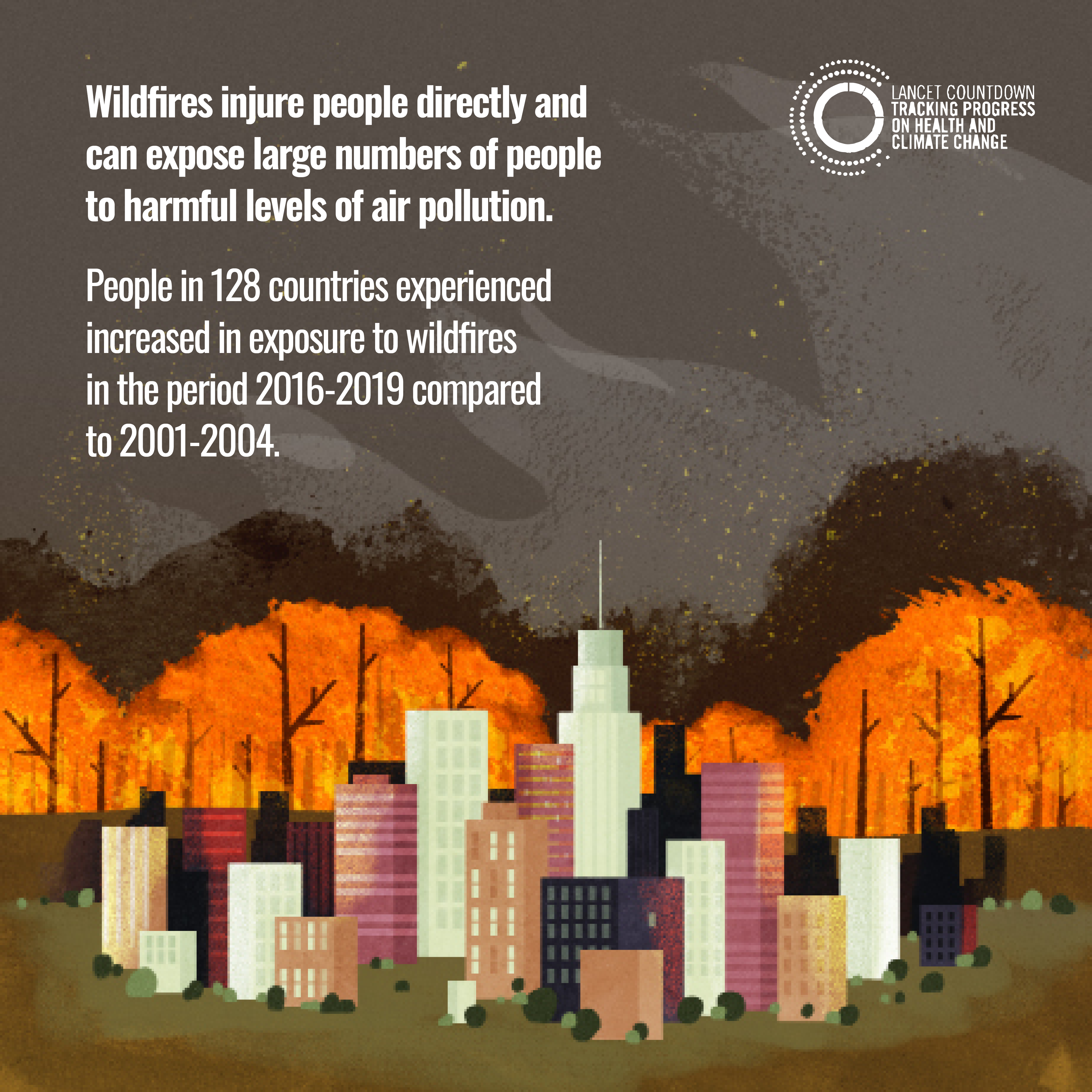 Emory's specific contributions included a global analysis on the effects of wildfires initiated in the wilderness and that extend into human habitats, not those resulting from human behavior. The researchers' analysis used both model-based risk to wildfires and satellite-observed exposure. As noted in the report, "114 countries experienced an increase in the number of days people were exposed to 'very high' or 'extremely high' fire danger risk for the four-year period ending in 2019. At the same time, 103 countries experienced an increase in population exposure to wildfires."    
"Increased risk of wildfire attributable to climate change may present a serious health risk by directly threatening human lives and indirectly exposing major geographic areas and potentially large populations to a complex smoke mixture of chemical aerosols, gases, and particulate materials for periods ranging from a few days to several weeks," says Shi of wildfires' impact on public health. 
Additionally, Emory University was an official sponsor of the 2020 Lancet Countdown U.S. launch event on December 3, 2020. According to Liu, the University is committed to continued support of the Countdown.