PhD Student Awarded NIH's Individual Predoctoral to Postdoctoral Transition Award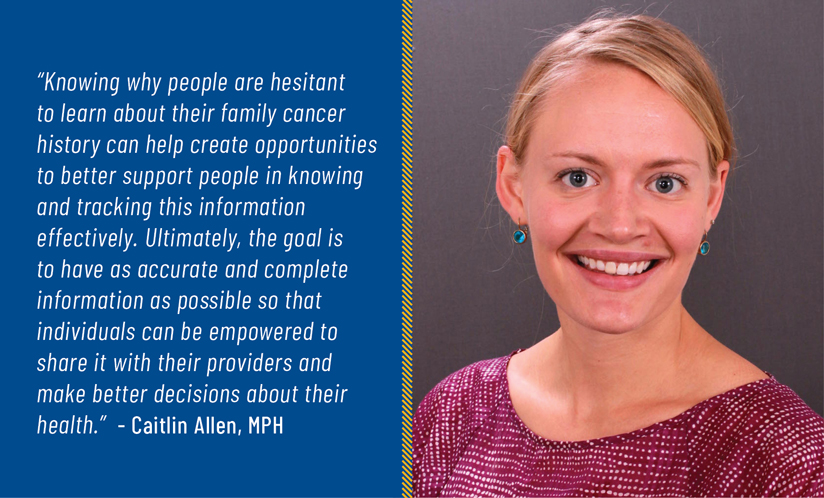 Forget five-year plans. Caitlin Allen, MPH, a PhD student in the Laney Graduate School's Behavioral, Social, and Health Education Sciences program at the Rollins School of Public Health, is operating on an ambitious six-year plan thanks to her recent receipt of the prestigious National Institutes of Health F99/K00 Individual Predoctoral to Postdoctoral Transition Award.
Each year, Emory University is allowed to present a single university-wide nomination for this fellowship, which supports a doctoral student interested in pursuing a career as an independent researcher with two years of doctoral support and four additional years of post-doctoral funding. Allen had unsuccessfully applied for an F31 fellowship the previous year, and, with the encouragement of her doctoral program cohort and mentorship team, was hungry to seek out additional fellowship opportunities. So, she put her name in the hat and placed an application to be considered as Emory's nominee.
After securing the nomination (which she considers an honor at both the school and university level), Allen received additional guidance and support from Carmen Marsit, PhD, associate dean for research at Rollins; Lawrence Boise, PhD, Winship 5K Research Professor and Vice Chair for Basic Research at Emory School of Medicine; her faculty mentors, which included Gene Brody and Weihua An; Colleen McBride and Cam Escoffery, who were her sponsor and co-sponsor for the award; and prior Emory award-winners.
"I think this collaborative mentality is what makes Emory unique and what has likely helped us continue to have success with this fellowship," she says. Allen is the first student from Rollins to be selected for this award.
"What I appreciate about this fellowship is that it allows for great continuity and stability both in my research and training. As part of my proposal, I was able to dream up my plans for the next six years and articulate the training opportunities that would allow me to achieve those long-term goals. Practically speaking, I plan to use the award to complete my dissertation and then move on to a post-doctoral position with an excellent mentorship team. I will be able to begin post-doctoral work with a team already in place and research ideas formulated, so I can hit the ground running!" 
Allen, a behavioral scientist, will spend the next several years investigating and implementing evidenced-based strategies to reduce cancer disparities. Her particular area of focus will surround family cancer history collection processes, perceptions, and efficacy.
"What is fascinating to me about family cancer history collection is that so many people don't know this basic information or only know it informally. Is it because it is awkward to ask about cancer history? Are people nervous about what information they will find? How do these conversations and awareness levels differ in various families and cultures?
"Knowing why people are hesitant to learn about their family cancer history can help create opportunities to better support people in knowing and tracking this information effectively. Ultimately, the goal is to have as accurate and complete information as possible so that individuals can be empowered to share it with their providers and make better decisions about their health."  
A graduate of the master of public health program in the Department of Behavioral, Social, and Health Education Sciences at Rollins, Allen initially became interested in public health during her senior year of college. As someone who sought out a health-related career, she appreciated how the field focused on improving the population's health and thinking collectively about how to improve population (as opposed to individual) health.
"I also really enjoyed how the field brings together many of my areas of interest. Now that I am working in the field, I greatly appreciate the autonomy that you get as a researcher—I get to explore questions and problems that I find fascinating," she says. She also notes that the collaborations and the types of people attracted to public health are among the most rewarding aspects of working in public health.
"I am amazed by the number of dedicated, thoughtful people I have met throughout my career. People in public health truly care about their work and I love the passion everyone has about their topic of interest. This work required vision and long-term commitment to improve population health, and being surrounded by these colleagues certainly keeps me going!"