Rollins Takes Action Webinar on Health Equity Dashboard: July 16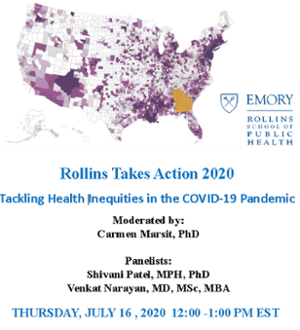 On July 16, 2020, 12:00-1:00 p.m. EST, Rollins researchers Shivani Patel, MPH, PhD, and K.M. Venkat Narayan, MD, MSc, MBA, will discussed their recently launched tool, the COVID-19 Health Equity Dashboard, in a webinar titled, "Tackling Health Inequities in the COVID-19 Pandemic." Carmen Marsit, PhD, associate dean for research, moderated the session. 
View a recording of the session here.