Rollins Takes Action Webinar on Interventions to Reduce Police Violence: June 29
On June 29, 2020, 12:00-1:00 p.m. EST, researchers will gather for a Zoom webinar titled, "Interventions to Reduce the Incidence and Consequences of Excessive Police Violence." Hannah Cooper, SCD, Rollins Distinguished Professor in Substance Abuse, from the Department of Behavioral, Social, and Health Educations Sciences, will moderate the panel. 
Zoom Link: https://zoom.us/j/93289969566#success 
Attendees may submit questions for panelists to answer by utilizing the following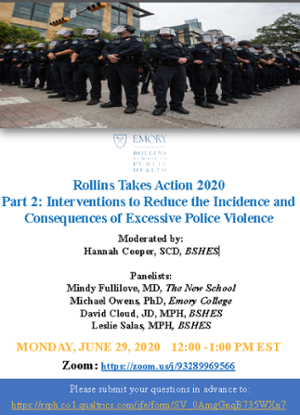 form: https://rsph.co1.qualtrics.com/jfe/form/SV_0AmgGnqB735WXn7 
Panelists for the session will include: 
Mindy Fullilove, MD, professor of urban policy and health, The New School
Michael Owens, PhD, associate professor of political science and faculty associate of the Center for the Study of Law and Religion at Emory University 
David Cloud, JD, MPH, Department of Behavioral, Social, and Health Education Sciences
Leslie Salas, PhD, Department of Behavioral,Social, and Health Education Sciences
This session is the second in a series of webinars planned throughout the year as part of the new Rollins Takes Action 2020 series and is the second session specifically aimed at exploring police violence's impact on public health.
For details surrounding the June 22 session, including a recording, click here.