Announcing the Gangarosa Department of Environmental Health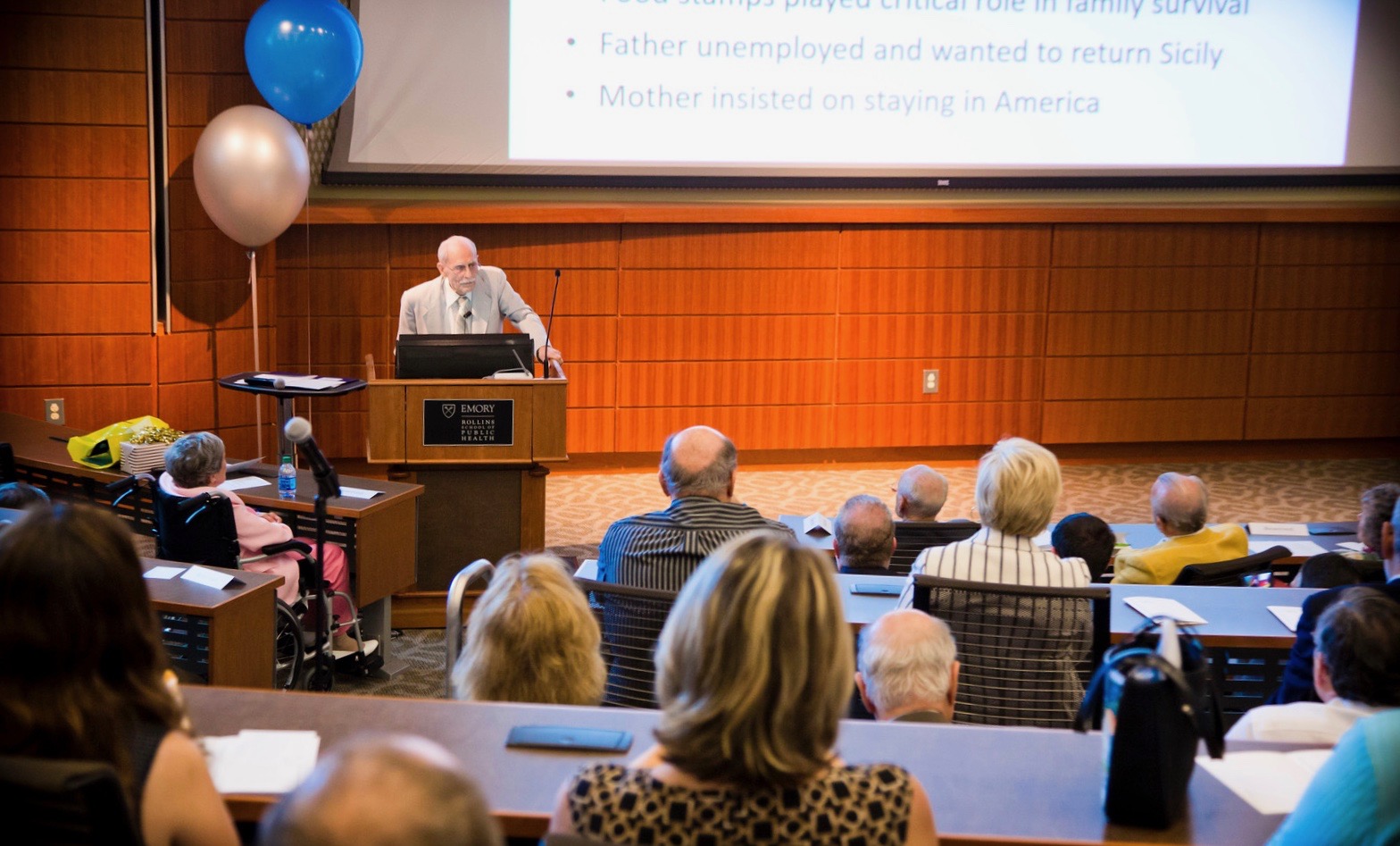 By Kelly Jordan
The Rollins School of Public Health is thrilled to announce that the Department of Environmental Health will now be named the Gangarosa Department of Environmental Health, effective immediately honoring the leadership and philanthropy of Eugene J. Gangarosa, MD, MS, FACP, and his wife Rose.  Following the Hubert Department of Global Health, this is the second department within Emory University to be named. Rollins will celebrate with an unveiling of the name and a toast on Wednesday, February 12 at 11 a.m. on the second floor of the Claudia Nance Rollins Building. 
"I don't think there is a person who does a better job of leading by example than Eugene Gangarosa," says James W. Curran, MD, MPH, dean of the Rollins School of Public Health. "His tireless quest for knowledge and passion for tackling the world's problems have served as an inspiration for generations of students and researchers. We hope that in naming the department for the Gangarosas, future generations will be inspired by their leadership and generosity."
Dr. Gangarosa began teaching in Emory's Master of Community Health Program (the precursor of the MPH program) in 1975 when it was first established by Emory. As director of the MPH program from 1983-1990, Dr. Gangarosa worked to build the MPH program, and paved the way for the founding of Emory's first new school in 72 years in 1990. Now in his 90s, Dr. Gangarosa continues to teach the occasional class at Rollins in his role as emeritus professor and is actively involved with the Center for Global Safe Water, Sanitation, and Hygiene which he founded.
During his service in World War II, Dr. Gangarosa worked to rebuild water and sanitation systems in Naples, Italy. His interest in medicine and enteric pathogens took him to Walter Reed Army Institute of Research, where his intestinal biopsy studies are credited with the widespread adoption of rehydration therapy, which has dramatically influenced the standard operating procedure for treating cholera and saves approximately 1 million children a year. His various public health roles have included serving as director of the University of Maryland's Pakistan Medical Research Center, working in various leadership positions at the Centers for Disease Control and Prevention which included leading the Epidemic Intelligence Service, and serving as dean of public health at the American University of Beirut.
The Gangarosas have lived around the globe throughout the course of their almost 70-year marriage, but keep their roots in Atlanta. They remain staunch advocates for public health education, research, and service. The Gangarosas' many gifts to the Rollins School of Public Health include the school's first global field experience fund, three endowed distinguished professorships, a scholarship fund, and an unrestricted endowment for the Gangarosa Department of Environmental Health.
"Through their astounding generosity, the Gangarosas have had enormous impact – the school has rapidly emerged as a leader in safe water and sanitation, a focus of Dr. Gangarosa's career, and other pressing public health issues," says Paige Tolbert, PhD, O. Wayne Rollins Chair in Environmental Health. "Now, they are launching a new phase for the department, which will allow us to further expand our reach as we train the next generation to tackle the daunting environmental challenges of the twenty-first century. We are deeply honored to be ambassadors of their vision of a healthy global environment for all."