Grand Rounds: Diabetes in the Developing World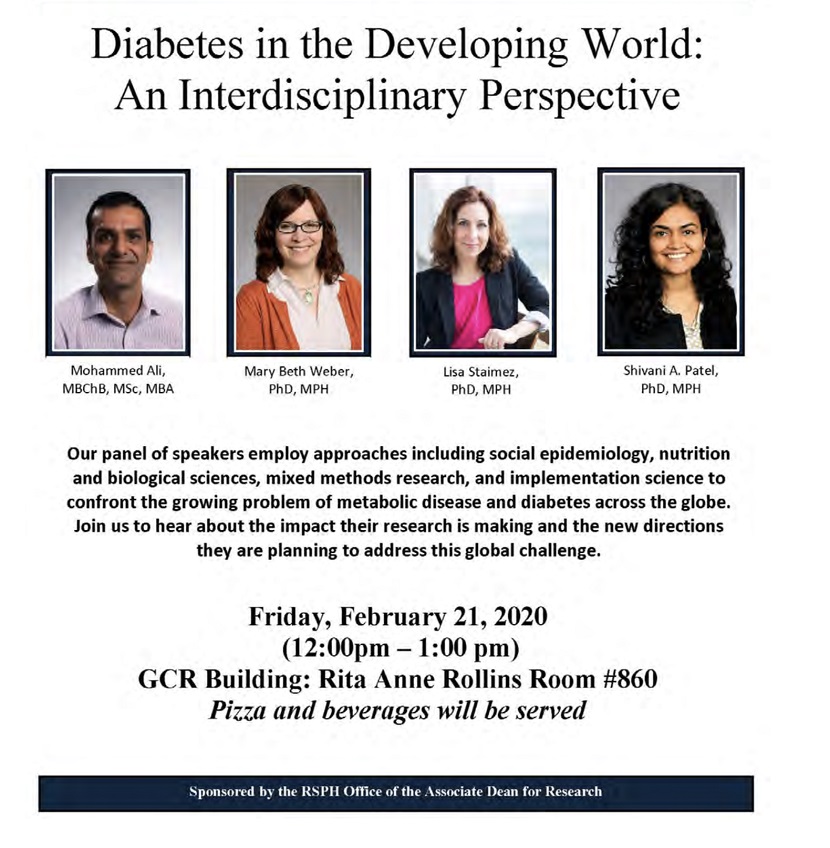 By Priyam Patel
On Friday, February 21, 2020, a panel of experts from the Emory Global Diabetes Research Center (EGDRC) will come together to discuss the interdisciplinary approaches they use to take on diabetes in the developing world. The Grand Rounds panelists are Mohammed Ali, Mary Beth Weber, Lisa Staimez, and Shivani Patel, and the discussion will be moderated by K.M. Venkat Narayan.
Diabetes is one of the biggest public health and development threats facing the world today. Led by Narayan, EGDRC researchers are constantly working to understand causes and consequences, investigate prevention methods, and inform policy through their research on the disease. EGDRC is a multidisciplinary effort which includes experts in global health, public health leadership training, community outreach, computer science, and data analytics from across Emory University who collaborate to conduct world-class research on diabetes and related metabolic diseases across the globe.
As part of their research, these panelists use numerous techniques including social epidemiology, nutrition and biological sciences, mixed methods research, and implementation science to inform and develop diabetes prevention and management interventions. During the panel, the speakers will discuss the impact of their research as well as new directions they are exploring to help bring about a world free of diabetes.
This Grand Rounds event is free and open to the public and will take place on February 21 from 12:00-1:00 p.m. in the GCR Building, Rita Anne Rollins Room #860. Pizza and beverages will be served.
If you are unable to make it to the panel in person, make sure to tune in to the live stream of the event: https://rsph.hosted.panopto.com/Panopto/Pages/Viewer.aspx?id=482963d0-2a02-4c0a-9f02-ab440105c7e2