Remembering Dollie Daniels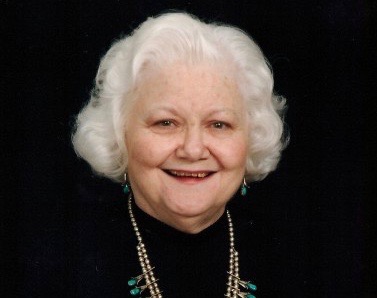 Dollie Durrett Daniels, a longtime friend and colleague of the Rollins School of Public Health, passed away on September 17, 2019, at the age of 89.
Daniels was a force during her 23-year tenure at Emory and left a lasting impact on the university and her colleagues. She was known for her dedication to her students, her ambition, and her tenacity.
Daniels was one of three people running the epidemiology department in its very earliest days. One of her colleagues at the time, Nancy Thompson, PhD, MPH, emeritus professor, was immediately struck by Daniels' tremendous work ethic. "She was working on her undergraduate degree in a distance learning program from Eckerd College while working more than full-time in our tiny program and running analytic medicine computer labs in the evening," Thompson recalls.  
 Separated by nearly 20 years, Thompson and Daniels built a friendship based on mutual respect. And, over the years, each served as a mentor to the other in varying capacities. "She took every bit of her experience and insight and poured it into me," says Thompson. "When I would undersell myself, or try to provide consultation without pay, she explained to me that people did not have the same respect for that which they got for nothing as they did when they had to pay. She was clear that I was advocating not only for myself, but for the value of women as professionals."
Later, when Daniels was working on her MPH at Rollins, Thompson served as her thesis advisor (her final thesis ended up winning a Shepard Award).
"In my opinion, Dollie could have been almost anything," says Thompson, "But I best imagine her as a newspaper editor or the top publisher at a major publishing company.  She loved words, books, writing, and reading." 
Daniels wrote and published a history of the public health program at Emory in a book titled, A Shared Dream. Her eloquence as a writer shines through in passages throughout the book, particularly in her dedication, which was addressed to the students. "The health of the world rests with the skill of these students, their dedication and their choices," she writes. "Their commitment is a major contribution to the world's health and to the future of academic public health at Emory University." 
Additional books included 
Aloha Midway Island: A Memoir; Joseph Arthur Durrett: The Man from Middle Creek (1898–1999) 
and
Whitney Brook Farm
(a children's book).
Carolyn Drews-Botsch, PhD, MPH, professor, met Daniels when she was a brand-new faculty member. "Dollie was a strong lady, but she got things done in the way that a Southern lady often does, with honey to sweeten the pot."
Daniels took her job seriously as an academic advisor (in a role that is now referred to as an "ADAP" at Rollins) and made students a priority. Daniels' office was a constant thoroughfare for master's students seeking academic—and sometimes personal—council.   
John T. Carter, PhD, MPH, emeritus assistant professor in the Department of Epidemiology, was a former student of Daniels' who remembers her as a dedicated and caring person. "I benefited from her assistance when I first explored getting an MPH," he recalls. "She eased the rules of the system and helped me take classes and get credit before I was enrolled. Then, she was very clear that I should take the EPI track when I was considering health care management or global health."
Drews-Botsch adds, "She was committed to the students, the department, and the school. She knew everyone and would make connections for students to ensure they had jobs and thesis data."
John Boring, PhD, MS, emeritus professor in the Department of Epidemiology, who worked closely with Daniels during his time as chair of the Department of Epidemiology mirrors Drews-Botsch's sentiments. "Dollie's first priority was helping the students." He also credits Daniels' support and expertise for his success as a chair. "I couldn't have done the job without her. She had my back and supported me. She helped keep me headed in the right direction by advising me if she thought I was getting off track. The job was her life, and she did a perfect job at it."
Outside of work, Daniels was the mother to four children, a wife, and a grandmother. She loved reading, writing, and spending time with her cats.
A service for Dollie will be held October 4, 2019, at the Johns Creek United Methodist Church at 11 a.m.
Dollie's obituary can be viewed here.