Emory Denim Day is April 17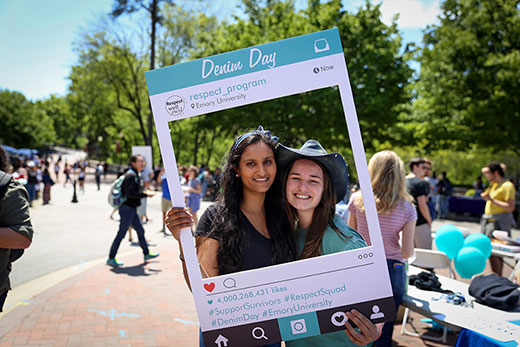 April 17 marks Emory Denim Day 2019. This annual event has been observed for the past 20 years during Sexual Assault Awareness Month to raise awareness and show support for survivors of sexual assault and sexual violence. Participants are invited to take selfies and submit their photos to respect@emory.edu or to post them over social media (Facebook, Twitter @RespectWell, and Instagram @Respect_Program) using #EmoryDenimDay.
The Emory Student Government Association will donate $1 for every Denim Day photo received by the Respect Program. Funds raised will be used to support Respect Program initiatives, including prevention education, trainings and outreach for faculty and staff, as well as advocacy and direct support for those impacted by sexual violence.
For more details about Emory Denim Day, please visit: https://news.emory.edu/stories/2019/04/er_denim_day_2019/campus.html.