Clearing the air: Indoor air pollution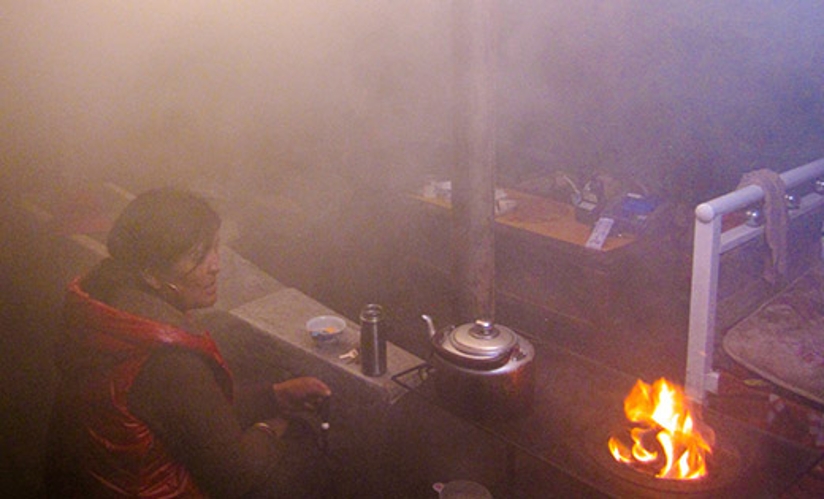 Whenever Thomas Clasen visits Ethiopia, India, or any of the other low-income countries where he often works on water and sanitation research, the same disturbing scene plays out again and again. Local research participants invite him into their home, and upon entering he is engulfed in thick, acrid smoke.
"People mainly use wood, dung, or crude charcoal-fuel stoves in homes," says Clasen, the Rose Salamone Gangarosa Chair in Sanitation and Safe Water at Emory's Rollins School of Public Health "The smoke bellows out. Their walls and ceilings are caked with black soot."
For Clasen, those blackened walls and ceilings were a message that his research on household- level environmental health hadn't gone far enough. "Even though I was confident that water and sanitation interventions were important, it became very clear to me that there were other environmental exposures that were potentially more important than the ones I was there to address," says Clasen.
In 2014, Clasen had an opportunity to expand his research to household air pollution by conducting a large randomized controlled trial in Rwanda that combined water filters with improved cookstoves. The work clearly struck a chord with funders. Now Clasen and an international team of researchers are embarking on a $30 million, five-year, randomized, controlled field trial to study the impact of cleaner cooking stoves and fuels on public health. The multi-country study is funded through the National Institutes of Health with support from the Bill & Melinda Gates Foundation.
"Indoor pollution is among the leading risk factors contributing to the global burden of disease," says Clasen, who is a principal investigator for the study. "A low-cost, clean-energy stove intervention could really make a difference."
An estimated 3 billion people around the world cook and heat homes with traditional stoves or open fires that use coal, wood, or animal dung as fuel. Clasen knows that the ubiquitous black soot from these fuel sources doesn't just get on the walls and ceilings. Particulates end up in lungs, increasing the risk of pneumonia, the leading killer of young children.
Evidence suggests that household air pollution contributes to low birth weight and stunted growth, as well as increases in the risk for cardiovascular and other longer-term diseases in adults, such as chronic obstructive pulmonary disease (COPD). Ultimately, that fine particulate matter can be blamed for 4.3 million premature deaths annually around the world. That makes this preventable condition one of the 10 leading risk factors for morbidity and mortality worldwide.
In 2014, the World Health Organization initiated standards for allowable indoor air pollution, setting a standard of 10 micrograms of fine particulate per meter cubed. Compare that with the present-day and commonplace situation that Clasen encounters. "We consistently see 200-500 micrograms per meter cubed; often we see 10 times that," says Clasen. "That means we have to make a very dramatic reduction in exposure levels to reach the WHO targets."