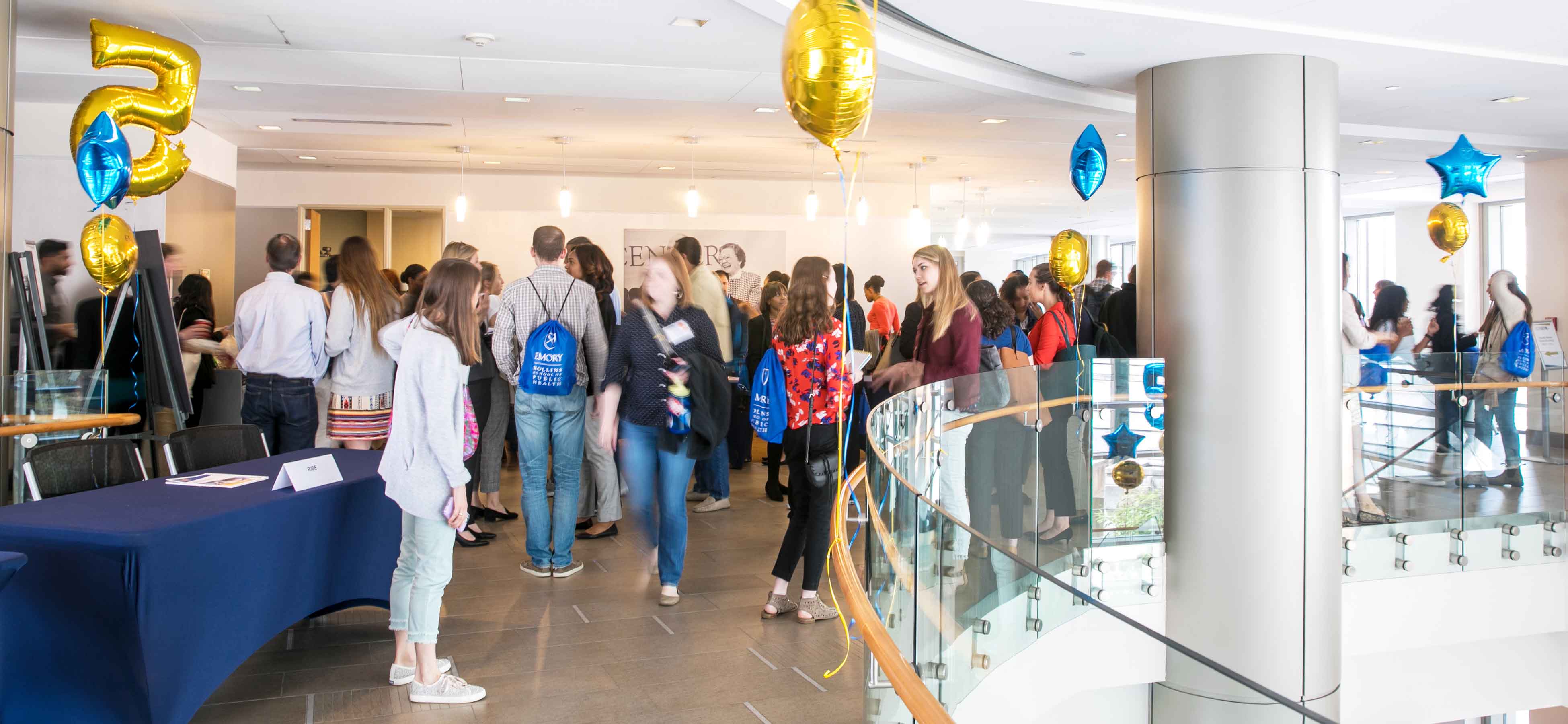 Visit Rollins
While we are unable to welcome external visitors to campus at this time, we are excited to meet you. We have several ways you can engage with us and learn more about the admissions process and our academic programs. Email Us: sphadmissions@emory.edu
One of our admissions representatives will be sure to answer your specific questions.
Virtual Opportunities
Join us for a virtual session. We offer general admissions information sessions once monthly. In addition we are offering several workshops designed to help you prepare your application for admission. Our academic departments will also be hosting virtual sessions, so that students are able to learn about specific programs.
ADMISSIONS INFORMATION SESSIONS
Join Senior Director of Admissions, Ivone Foisy, along with students, alumni, academic advisors, and representatives from the Office of Career Development to learn about the Rollins School of Public Health. We will review academic offerings, the admissions, process and answer your individual questions. Join us!

Tuesday, January 19, 2021 | 12PM - 1PM EST
Wednesday, February 17, 2021 | 6PM - 7PM EST
Thursday, April 8, 2021 | 6PM - 7PM EST
Tuesday, May 4, 2021 | 12PM - 1PM EST
---
EXECUTIVE MPH (EMPH) INFORMATION SESSIONS

General Information Session
Join us for an online information session to learn more about the #5 nationally ranked Rollins School of Public Health Executive MPH program at Emory University. We give smart, passionate people from all walks of life a top-tier education and practical skills to enter (or advance in) the field of public health. The Rollins EMPH program is more than a degree. It's a community of scholarship and one we hope you will consider joining.
 
Wednesday, January 27, 2021 | 12PM - 1PM EST | Register Now
Explore Our Tracks
Our tracks are designed to work with your lifestyle. Earn an MPH through online and limited on-campus sessions. Join us to learn more about the EMPH program's three track offerings—Applied Epidemiology, Applied Public Health Informatics, and Prevention Science.
 
Wednesday, February 3, 2021 | 12PM - 1PM EST | Register Now
---
THIS IS PUBLIC HEALTH
Virtual Fair
Chat with Ivone Foisy, Senior Director of Admissions and Recruitment to answer your questions about our application process, academic departments, and student life.
 
Thursday, January 21, 2021 | 11AM - 2PM EST | Register Now
Rollins Ambassadors
We know it can be intimidating coming to a new place, even if it's just for the weekend. That's why we've assembled our Rollins ambassadors.
This knowledgeable group of student volunteers is made up of some of the friendliest people you'll ever meet.  Ask them questions about classes, student life, orientation, and their experiences at Rollins.
Visiting Atlanta
Welcome to our vibrant Southern mecca. Besides our prime location, at the "public health capital of the word," at Rollins, you're also at the center of a happening metropolis.
When you reside in Atlanta, you're privy to nationally ranked professional sports games, a vibrant arts scene, an award-winning restaurant scape, world-class shopping destinations, famed historical sites and museums, a prolific film scene, and so much more.