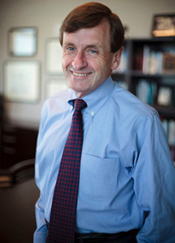 Thank you for your interest in the Rollins School of Public Health!
We are living in an unprecedented time that brings with it a variety of opportunities and challenges. "Public health," once an obscure term to many, is now widely recognized with the onset of the global COVID-19 pandemic. The need for science-driven inquiry and public health leadership is greater now than ever.
As a school, we strive to foster an environment where innovation, discovery, and differences are embraced and celebrated. Core to this vision is a commitment toward diversity, equity, and inclusion, which extends not only to race, religion, sexual orientation, or gender, but also to a diversity of thought and opinion. As our students, faculty, and staff can attest, our collected differences and collaborative nature are part of what makes Rollins so special, and helps to provide perspective on the work we do in our classrooms and in the community.
Together, we are united in our mission to impact health and well-being through excellence in teaching, research, and the application of knowledge locally and globally. Among our ranks are researchers collaborating with NASA on air pollution programs; epidemiologists who are developing COVID-19 models and advising policymakers and industry leaders; behavioral scientists studying the impact of racial and economic disparities on health outcomes; vaccine researchers; and researchers working to prevent the spread of the world's deadliest infectious and chronic diseases including HIV/AIDs, cancer, heart disease, and diabetes. At Rollins, you will find yourself challenged and embraced by a community driven by our shared desire to make a positive impact on the world around us.
I look forward to meeting you and for you to experience the unique work and learning environment at Rollins firsthand.
 
James W. Curran, MD, MPH
Dean, Rollins School of Public Health
Office of the Dean
Rollins School of Public Health
Emory University
1518 Clifton Road, NE
Atlanta, GA 30322
(404) 727-8720