Where are you going? We'll meet you there!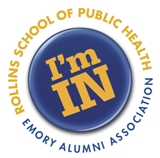 The Rollins School of Public Health Alumni Association is your connection to a network of more than 10,000 public health alumni living in all 50 states and over 100 countries across the globe. Offering a variety of events and services for professional development and personal growth, we are committed to meeting the needs of all our alumni. Throughout your career, we hope you will continue to stay connected to the RSPH by becoming active in YOUR alumni association.
Here's how:
Connect with us online. "Like" our Facebook page and follow us on Instagram to stay current on the latest news and activities happening around Rollins. Find job openings and professional development opportunities on our LinkedIn page. And connect with alumni from across the university through Emory Connects – Emory's exclusive online community --  and the Emory Alumni Directory.
Attend our alumni events in your city, including the annual APHA reception, networking receptions and a variety of continuing education and community service projects.
Volunteer! Raise your hand to lead one of our regional alumni networks outside of Atlanta, serve as a panelist or speaker, or mentor current students. Volunteering is a great way to help our school AND meet other alumni to build your own network.
Join one of our professional groups like the CDC Employee Association of Emory Alumni or the Emory Alumni Environmental Network to meet alumni with similar career interests, or one of our Emory affinity groups to network with like-minded alumni across all disciplines.
To learn more, contact the RSPH Alumni Office at sphalumni@emory.edu or 404-727-4740