Whether communicating to diverse external and internal constituencies, creating a more complete understanding of Rollins, or developing unique partnerships with local, national, and global agencies, Rollins' communications and media relations activities support the school's academic missions of teaching, research, and service.
Communications Contacts
Catherine A. Morrow, communications coordinator for health sciences communications
catherine.a.morrow@emory.edu
Members of the media: Contact Catherine to schedule interviews with our experts or to obtain our media kit.
Faculty and staff: Contact Catherine if you receive requests from the media, are seeking media attention for a paper/grant/specific story, or would like to receive media training.
Ashaki Williams, director of marketing and communications
ashaki.williams@emory.edu
Faculty and staff: Contact Ashaki about branding or marketing inquiries and advisement.
Kelly Jordan, director of strategic content and communications
kjord10@emory.edu
Faculty and staff: Contact Kelly with story ideas pertaining to research, grants, awards, student life, or publications; to request Cascade training or communications consulting; or for help coordinating with central Emory communications.
Martha McKenzie, editor, Rollins magazine
martha.mckenzie@emory.edu
Contact Martha with story ideas for Rollins magazine or the Dean's Letter.
Rollins Magazine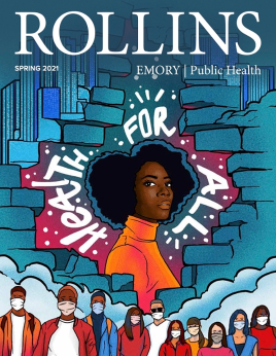 http://publichealthmagazine.emory.edu/
Rollins magazine spotlights the amazing activities and people (students, faculty, researchers, alumni, and donors) of the Rollins School of Public Health.
Dean's Letter
http://www.sph.emory.edu/about/communications/dean-letter/index.html
Quarterly letter to help faculty, administrators, staff, students, and leaders across campus keep in touch with our progress.